Evening people!
It was a crazy week this one, trying to juggle loads of things at the same time was exciting as I am terrible at that, but for some reason, I was super productive this week, started a new (super small) scene as well this week, to see if I can restrict my time working on different projects, and to focus more on different things, this being a pure substance designer scene based on a picture I took in the London underground last weekend.
More to show you in the next section!

Most of my time this week was spend on doing a material for the fence covers and lighting, getting some more volumetrics in there.
Also spent some time on ground textures and moving bits around in the scene to remove some of the visual clutter, which is why I wanted to have the fence covers in the first place. Experimented with some writing to go on top of them, but that is going to be done with decals instead.
I also started adding in some more dirt and grime bits especially on the wall sections, but this is going to be done on a majority off the meshes to give it a more rundown look.

So next up is my other little project that I started this week, so far I have spend maybe 3 hours on this one, most of them inside of substance designer. All this stuff is early work in progress though, looking forward to getting some more substance done!
It's going well so far in terms of time management, now it's just keeping this up!
Next week I'm going to spend a lot more time on getting the chemical plant scene done, working on different meshes/materials.
Looking forward to next week!

Got a big one for you guys, was trying to keep it as condensed as possible, and this might be a good template to refine at some point later after a lot of feedback and taking a more in depth approach. This tutorial also made me realise once again that breaking stuff down/making tutorials takes more time than you expect!
So this is how I approached the grass that I am currently using for a scene that I am building, I hope it will be helpful to you guys!

If you have any feedback please do not hesitate to contact me at all, and I would love to see your own personal end result if you make something using this tutorial!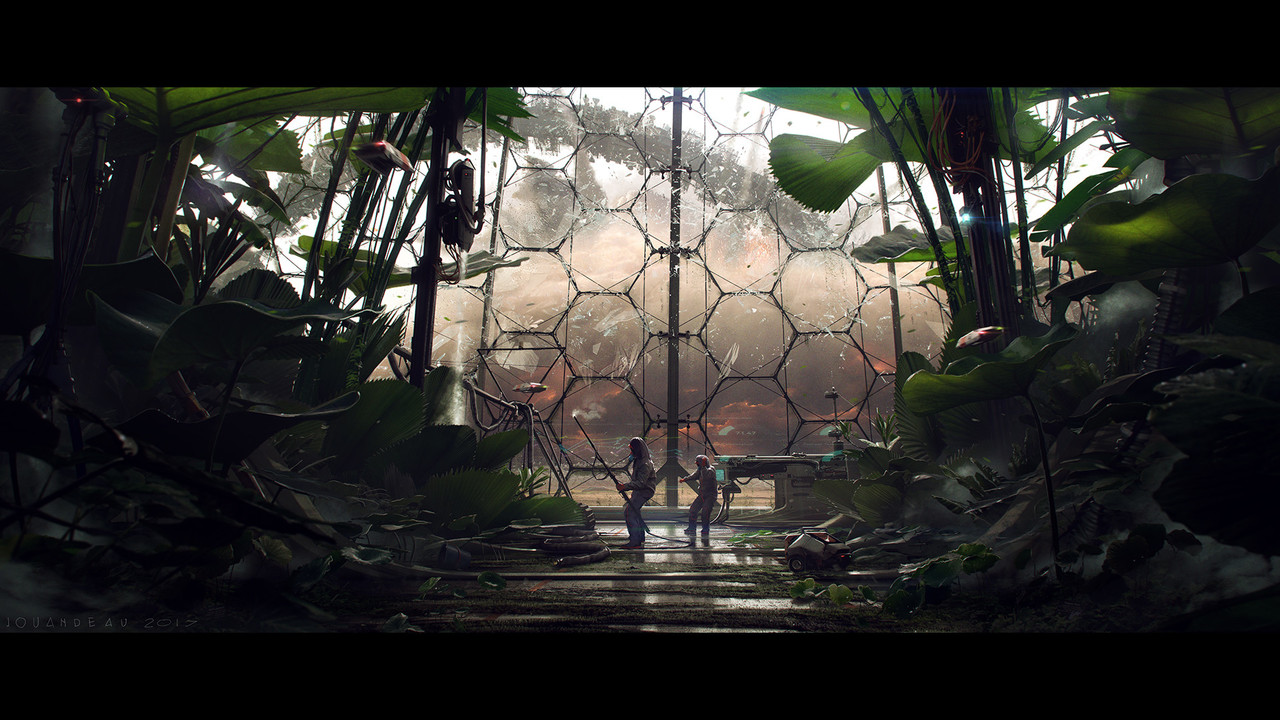 Image Credit - Romain Jouandeau - LA SERRE

Visit his profile over :
Romain Jouandeau - Artstation Profile
I was so glad when I found this one this week, I have it as one of my desktop images and it instantly sparked that feeling of "I WANT TO MAKE THIS".

I love the storytelling in this one, the visual contradictions between the bright green colours of life in the foreground and the dark gloomy orange colours of destruction in the background. The way this has been executed is superb, all the tiny details in the foliage, the little robots flying/driving around.

This is such an amazing scene and it is going straight into my folder of projects to-do, if and when I ever have the time for it!
His other stuff is amazing as well, so make sure to drop him a visit through one of the links posted!
Allright guys!
That's going to do it for me for this week, I'll catch you in the next one!