Evening People!
Last week was crazy with flying over to Belgium and meeting so many people! It was amazing speaking to so many students and I truly enjoy meeting all of you out there.
Patreon blog, early access
With the blog now being release on multiple places, I have decided to shift the schedule a little bit and no have them release on the same moment. Especially with Artstation Blog's not allowing me to schedule them ahead of time, this lead me to start preparing my blog earlier.
This is also why my Patreon's will now get access to the blogs a day early compared to people following on Artstation. So if that is something that speaks to you, head on over to my Patreon!


Now onto some other stuff!
DAE internship and Portfolio Reviews
Last week I had the chance to fly out to my former school in Belgium, on Thursday we had the Portfolio Review event accessible for everyone that wanted his/her portfolio reviewed.
It was amazing to see so many talented people coming up, sharing their work and then spending the time to go through some round of feedback.
Whereas on Friday people had the opportunity to get an interview for a potential Internship. It was weird being in this position and seeing it from the other side for the first time, some people coming to our little booth stressed out of their minds! (I can emphasise, because I had the same in the beginning and I wasn't even showing anything :D)


It was also more exhausting that I had originally anticipated too, spending Thursday evening until 11ish for the portfolio reviews and then the next day from 9 to 5 the entire day, with only a small break in the middle to grab a bit of food, but it was worth it though!
My only hope is that we really helped some people that took the time to come up to us and have a chat about their hopes and dreams.
Talk by Celia Hodent
This Monday started out nice with a breakfast and talk by Celia Hodent with a background with over 10+ years of experience with companies such as Epic Games, Lucasarts and Ubisoft it was amazing to hear her talk about UX and Cognitive Science. To be honest I didn't really know what to expect with this one, but it was amazing hearing her talk about how the "Gamer's Brain".


If you want to check it out for yourself you can find this specific talk on Youtube on the link below:
Moss tutorial
Still working on this tutorial, I spend some more time on adding more explanation bits, but we are getting close to the final product and will be hopefully getting it out there at the end of the week!

Notion Updates
Another thing I did spend some time on too is refining the way that I handle the preparation for these blogs as I mentioned before. Now I have a template that I use inside of Notion that makes it easier to complete all the different steps and keep track of them too!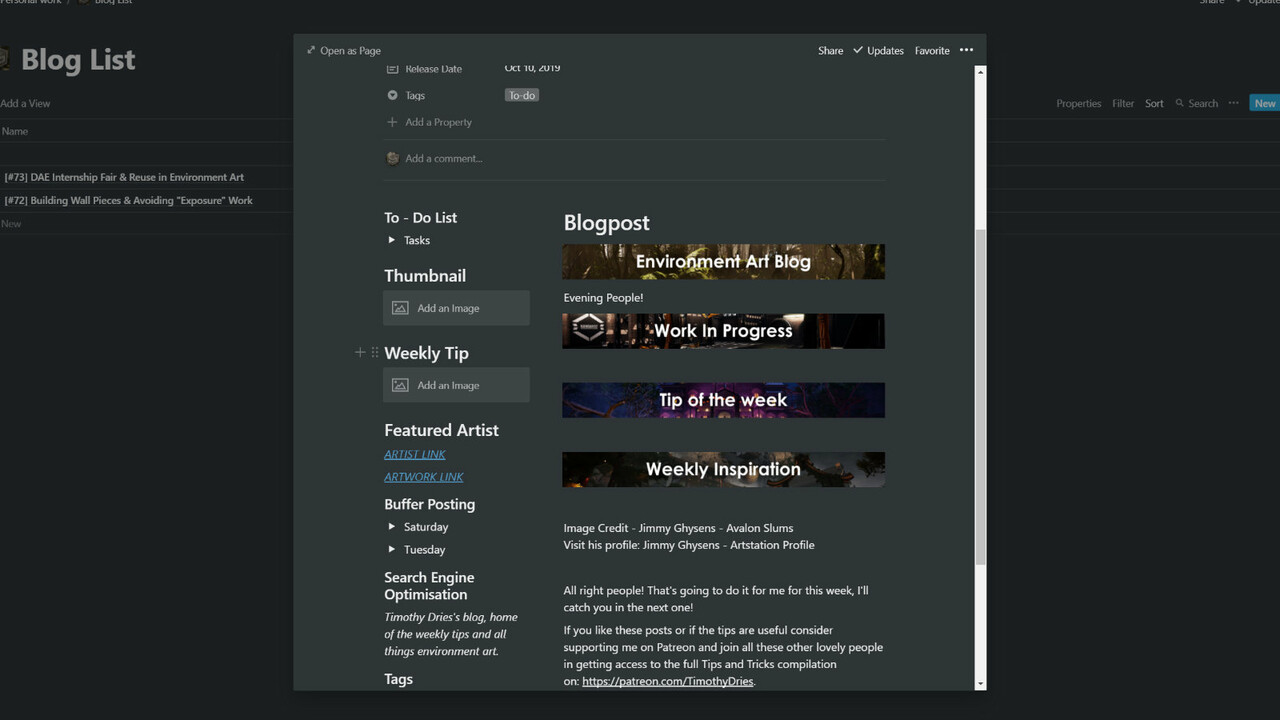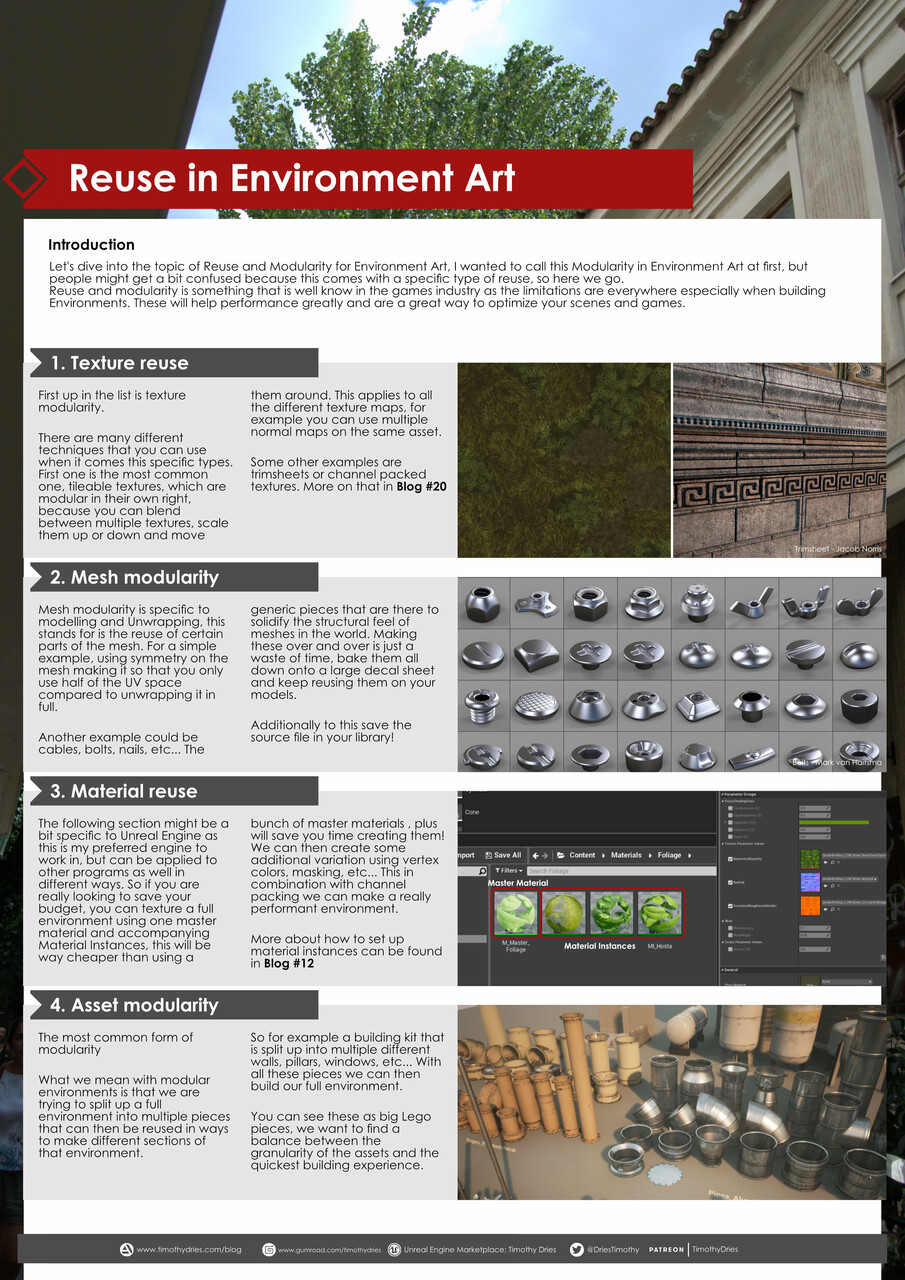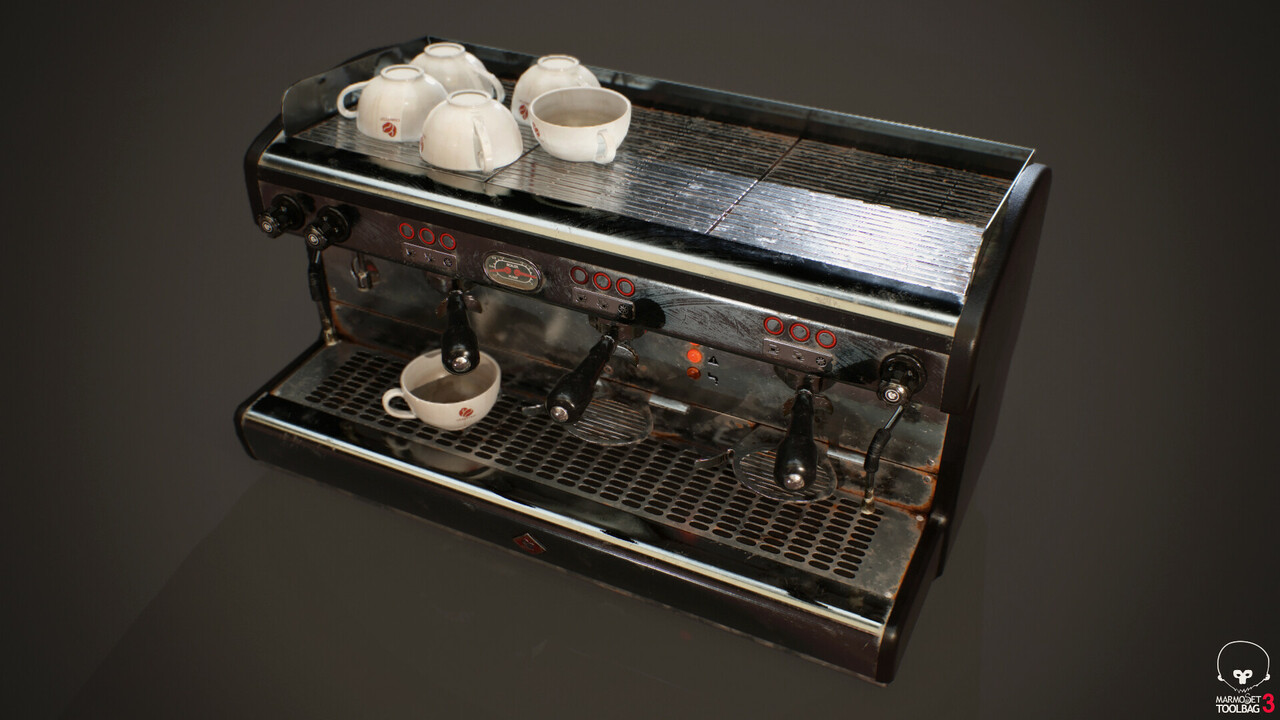 Image Credit - Hannah Watts - Cafe Till
Visit profile: Hannah Watts - Artstation Profile
For this week we have the amazing props that Hannah Watts is working on for her newest scene, but if you are looking for a benchmark on how to texture then look no further and have a look at all the other shots on her portfolio.

Another thing that works really well here is that she uses the lighting to really make the details in the textures pop.
So thanks Hannah, your work has been a continuous inspiration for me and I'm sure it will continue to be!
All right people! That's going to do it for me for this week, I'll catch you in the next one!
If you like these posts or if the tips are useful consider supporting me on Patreon and join all these other lovely people in getting access to the full Tips and Tricks compilation on:
https://patreon.com/TimothyDries
.