Evening people!
Its been a bumpy start to 2019 when it comes to health, last week I felt really sick and that only got better on the Sunday/Monday after, but then this week comes around and yesterday I started feeling sick once again, especially with the virus going around at work this time as well.
This does mean that it is a good to see if I can give myself more time to rest and heal in 2019. Because most of the time I just want to get back into it and that cuts into my healing process, so I have to learn to be a little bit more patient!
Patreon
Took some time  to have a look at Patreon and explore what and how it works. It has been something that has been super interesting to me for a long while and I feel that it's about time that I at least give it a shot and start planning something involving Patron.
There are a lot of things that come with that as extra baggage though, like do I set up a community space for all the people that are Patrons? Even though I don't really feel like chatting people (this being my own community will definitely improve that though), to me it feels so weird, I would rather have a direct talk with the person on Skype or other things. And also, what will be the different reward tiers and how can I give people value for their money.
Setting up streaming overlay
Another thing I spend a little time on was testing out some things related to streaming like looking at all the tools that get provided to streamers such as overlays and all that stuff, I have also been checking out some people that have been doing it for a longer time like Dinusty and Griffitii.
Which is going to bring me nicely to the next topic!
Organisation with notion
During Dinusty's stream he spend a little time talking about a really cool orginasational tool called Notion, so after checking it out I decided to reformat all of my personal documentation which was stores ony NAS server's version of Drive and move it over to the more insightful Notion app (which is where I am typing this right now sitting in a comfortable chair at the dentist waiting for my girlfriend) might as well make the most out of it right? So yeeeah the main reasons why I switched to this is because it had better interaction when offline and is quicker than an app running on my NAS.
I have also been spending a little more time on an outline for a video series, but more on that later when I get somewhere closer to a final form (which is going to take ages! but I am working on it steadily!)

Looking forward to what this year will bring (hopefully no more sickness)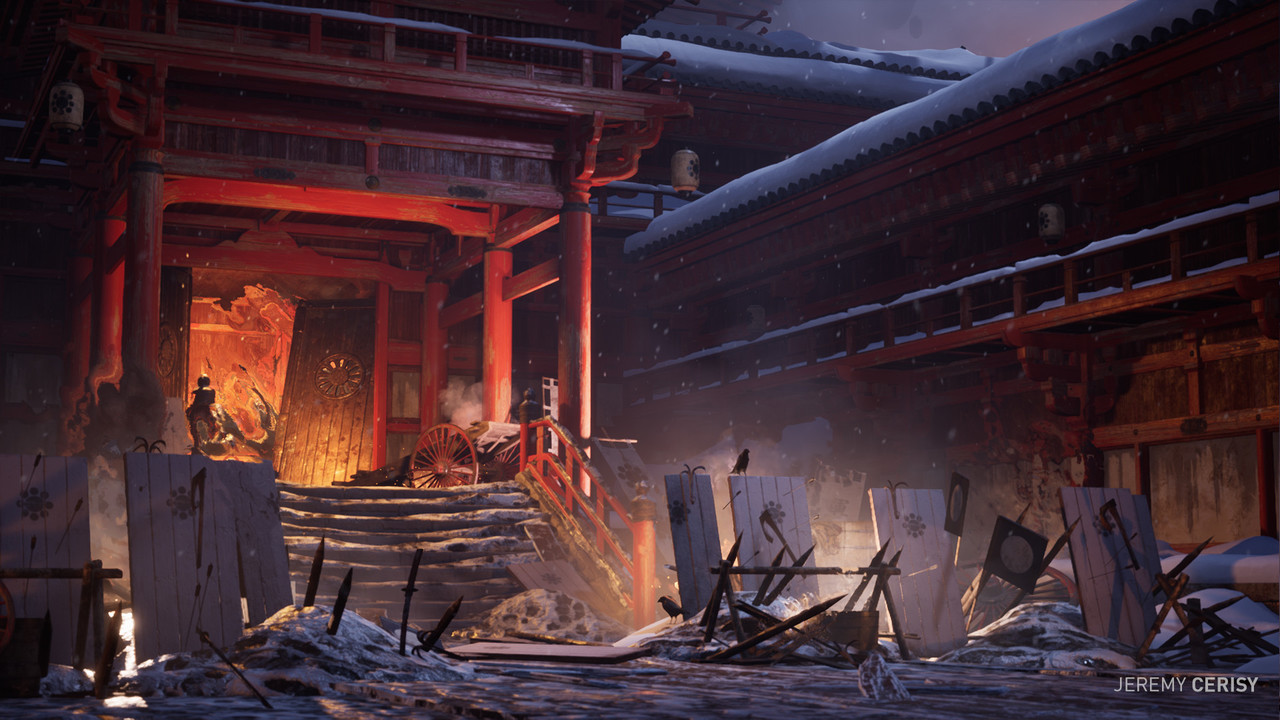 Image Credit - Jeremy Cerisy - Hosokawa War

Visit his profile over :
Jeremy Cerisy - Artstation Profile
With the most recent Arstation Challenge there was a ton of awesome stuff that came out of it, especially in the environment art section. I'm always surprised by the amount of talent and grit that is been shown in these Challenges, because a lot of people are doing this after work etc...
Anyways before I drift off too much, I came across this nice environment by Jeremy Cerisy, which displays a nice variation of materials and meshes which are showcased really nicely in this well composed environment. The thing I probably love the most is the balance of the colors, the contrast between the red and blue and then the subtle use of purples really tops it off.
Thanks for making such an awesome Environment Jeremy and inspiring me! Can't wait to see the next one.
Allright guys!
That's going to do it for me for this week, I'll catch you in the next one (hopefully fully healed then)!